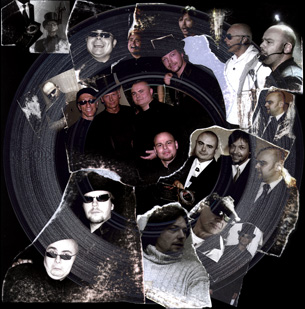 4TET (FourTET)
A cappella quartet featuring:
Tenor David Uličník, Baritone 1 Jiří Korn, Baritone 2 Jiří Škorpík, Bass Dušan Kollár
... formed in October 2002 by Jiří Korn. The first performance of these 'Men in Black' was their a cappella version of the song "How Deep Is Your Love".
Due to the enthusiastic reaction of the audience, live performances all over the Czech Republic and abroad, as well as several appearances on television (Manéž Bolka Polívky, Miss 2003, Zlatá mříž, Gogošou etc), they expanded their repertoire to include songs like Lady Karneval, Tears In Heaven, Lion King, Addams Family, created a concert program and released three CDs: 4TET 1st (2004), 4TET 2nd (2005) and 4TET 3rd (2008).
Artistically rich, precise and original, this quartet reflects the well-known perfection and professionalism of Jiří Korn.
Outstanding vocal performances, the ingenious costume designs of Marie Marková and Jana Boušek, the surprising arrangements with innovative harmonies of Jiří Škorpík, as well as powerful theatrical and choreographic elements, all add up to a moving, memorable evening and a unique atmosphere. Their consistently sold-out shows are the proof.
It will come as no surprise that an appearance of the 4TET is often the highlight of prestigious and social events.